Cannes, Monday October 15th October 2018: Cyber Group Studios has joined forces with Turner to create Taffy, a brand-new animated series for Turner's second flagship kids' channel Boomerang across international markets. The series will also be broadcasted on France Televisions Networks.
Inspired by the classic Hanna Barbera cartoons, Taffy will enjoy a special World Premiere presentation at MIPCOM in a session titled – "The Making of a Modern Classic" (Monday 15th October at the Majestic). In this unique presentation, Pierre Sissmann and Mike de Seve (Co-Creators of the series), Ahmed Guerrouache (Director) and representatives from the main original broadcast partners, Patricia Hidalgo (Chief Content Officer, Turner EMEA and International Kids Strategy) and Tiphaine de Raguenel (Executive Director of France 4 / Director of Children & Youth Activities, France Télévisions) will introduce the series and share the motivation behind its creation.
Patricia Hidalgo, Chief Content Officer, Turner EMEA and International Kids Strategy said: "We were on the look-out for an original series for Boomerang inspired by the great Hanna Barbera classics and that's how we came to work on a development project, followed by this fantastic co-production with Cyber Group Studios. Taffy perfectly matches our ambition and we're confident it will be an instant hit when it premieres on Boomerang from the end of this year."
Pierre Sissmann, CEO of Cyber Group Studios and Co-Creator of Taffy added: "Cyber Group Studios is particularly proud to bring to the public the very first episodes of this modern classic and strongly believes it will find its home in the heart of kids and families around the world!"
Taffy (78×7') follows the non-stop, slapstick extravaganza faced by loyal hound dog Bentley when his billionaire old lady owner Mrs Muchmore takes in an imposter posing as wide-eyed, fluffy angora cat. Each instalment sees Bentley try to reveal "Taffy" for the vermin he is – while super-clever Taffy handily frames the dog for every one of his exploits, pillagings and disastrous messes. Whether traveling from Mrs Muchmore's luxurious mansion, to a five-star cruise, to jet-setting international adventures or a visit with the President, wherever these rivals go, mayhem is sure to follow!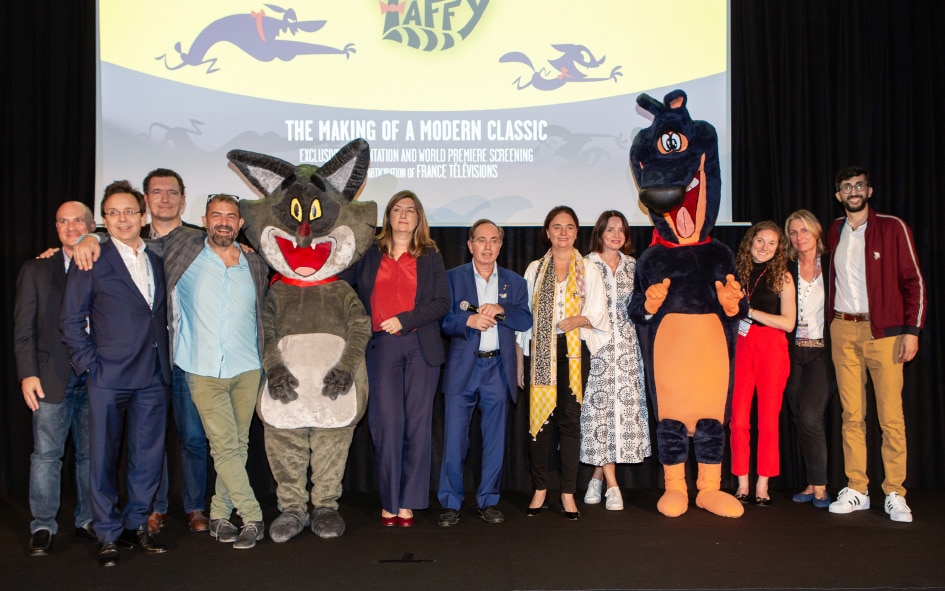 « Taffy, MipCom World Premiere Screening (Cannes, Monday October 15th)
Caption from left to right : Richard Goldsmith, President Cyber Group Studios, USA / Dominique Bourse, Chief Operating Officer, Cyber Group Studios / Pierre Siracusa, Head of Animation, Children & Youth Department, France Télévisions / Mike de Seve, Co-Creator of Taffy, Baboon Animation/ Taffy himself / Tiphaine de Raguenel, Executive Director of France 4 – Director of Children & Youth Activities, France Télévisions / Pierre Sissmann, Chairman and CEO, Cyber Group Studios / Patricia Hidalgo, Senior Vice President Chief Content & Creative Officer EMEA and International Kids Strategy, Turner Broadcasting System / Cecilia Person, Vice President Acquisitions and Co-Productions EMEA & International at Turner Broadcasting System / Bentley himself /Zia Bales, Senior Acquisitions Manager, EMEA at Turner, Turner Broadcasting System / Dominique Neudecker, Senior Manager Series Acquisition & Production at The Walt Disney Company Germany / Ahmed Guerrouache, Director of Taffy